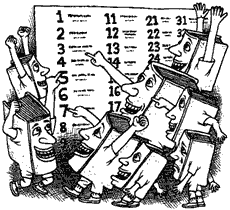 A Day in the Life of a Persuasion Architect brought back an interesting blog post by "Mike" on Techdirt.
In it, 'Mike' argues that:
"Book publishers have been pretty vocal in their dislike for Google's plan to scan books and make them searchable via a great big electronic card catalog — claiming that this somehow is a misuse of their content."

"The question, really, is why bother? All these publishers are creating limited, expensive, fragmented searches for books, when Google (and others such as Yahoo and Amazon) are more than willing to do the work for them, while bringing all the offerings together."
I couldn't agree more. Then 'Mike' really hits the nail on the head when he states, "There are very, very few people in this world who think about books in terms of who published them."
The problem with the publishing industry today—especially most large New York publishers—is that their mindset is the same as it was 10 years ago; which is to say their posturing suggests they still "make" authors, as though a book's reader ever gave a damn about its publisher in the first place. This highly seductive form of self-delusion, a seemingly benign relic of a forgone era, is the publisher's biggest challenge in today's marketplace–and hitting the proverbial 'snooze button' on the internet for the past 10 years hasn't helped.
The very few exceptions to this phenomenon include niche categories in which there are very few publishers to begin with. For instance, TOR (fantasy books), ELSEVIER (medical books), Lawgic Publishing Company (forms, document-generating systems, and reference books for lawyers), or IEEE Publishing and Information Services (technology books). Otherwise, book buyers tend to notice the publisher once they've already bought it, if at all.
Publishers need to understand that book consumers buy what THEY want to read. Sometimes they buy because an author commands their respect. Sometimes they buy books because of referrals from friends, family, colleagues, co-workers, or trustworthy and/or engaging critics. Sometimes they buy a book simply because it directly fills their immediate whim or need. But none of theses reasons have anything to do with the publisher.
Instead of worrying about brand affinity–which, ironically, only impresses aspiring authors–or whether they're losing potential buyers because of Google's plan to scan books and make them searchable, publishers need to catch up with the times and start treating books for what they are: content. Lest they should perish, publishers should ask bigger questions, like, "What other ways are there to develop content?" or "How else can I sell content in today's market?" Or better yet, they should find answers to these questions–and quickly.
Note to publishers: So, you publish books. Fantastic. Want to buy a PDF? If you don't wish to become obsolete within the decade, stop focusing on what others are doing and start focusing on how you can actually "make" authors through content diversification.
Note to authors: If you think publishers know how to market, I've got some land near Atlantis I can sell you at a low, fixed rate.