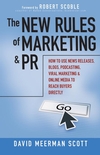 In today's edition of Grokcast, David Meerman Scott, author of The New Rules of Marketing and PR: How to Use News Releases, Blogs, Podcasting, Viral Marketing and Online Media to Reach Buyers Directly, speaks with Robert Gorell about how marketing and public relations have become more conversational than ever, and how to not let these new opportunities to relate to customers slip by your company's radar.
A renowned online thought leadership and viral marketing strategist, David's blog WebInkNow.com is invaluable for anyone who struggles with multi-channel communications (read: pretty much everyone in business). The New Rules… grew out of his popular e-book by the same name, which has been downloaded by some 250,000+ fans.
In Part 1 of the interview, David & Robert discuss:
How the advent of electronic content has changed publishing world for good.
Why "we are what we publish" on the Web.
How, after taking his own advice, his e-book turned into book deal in 20 minutes.
Why organizations' fears of letting employees express themselves online (like blogging) are unfounded, and usually only considered dangerous by executives who don't read blogs (for instance).
How he was able to blog his own book before publishing it–and how doing so made the book better.
The blogging tap-on-the-shoulder technique David used that led Robert to discover that GrokDotCom was included in the book.
How this strategy took on a viral life of it's own, creating a lot of new fans in the process–and for free!
Click here to listen to Part 1 of David Meerman Scott and Robert Gorell

To download this podcast for your next flight, car or train ride, right-click here. And don't forget to listen to Part 2 of the interview, where David discusses how to transform PR from just "media relations" to living, breathing thought leadership.