Conversion rate = The number of people who take the action you want them to take divided by the total number of potential people who could have taken that action.
When you break that sentence down, you start to understand how to optimize your conversion rate.
Step 1 – Let's understand "number of people"
Who are these people? Are they all the same? Do they have different characteristics, needs, questions? Do all these people have the same amount of product/service knowledge that you do? Are they all at the same stage in their buying process? Do they know you already? Or have they never heard of you before?
How are you bringing these "number of people" to your website? Do they all come by directly typing your URL in their browser? Do some search for your brand? Do some search for your category? Or your products? Do some of those people come from organic search? paid search? emails? affiliates? Do these people come from different websites: Google? Bing? Yahoo!? Wikipedia? Twitter? Facebook?
Do you launch new marketing efforts regularly? Are the efforts last week different than this week? last month versus this month? Is there an important calendar event occuring (Christmas if you're a retailer; Fourth of July if you're a seller of fireworks; Mother's Day if you sell flowers: etc.?) all of which may induce a "spike" in traffic that is different than usual.
There is no such thing as an average person. That is why your average conversion rate is a rough indicator but virtually worthless as a way to focus your conversion optimization.
You have lots of segments who come to your website. They differ by demographics, psychographics, behavior, or because they came in through very different marketing efforts. You can calculate a conversion rate for each one of these segments/marketing efforts and you should.
Step 2 – Let's understand "the action you want them to take":
If you are in retail, you want them to purchase a product.
If you are in lead generation, you want them to become a lead.
Are there no other actions that are valuable?
In retail, even in they don't convert now would it at least be more valuable to know if they added an item to your wish list, or subscribed to your newsletter, or looked up your retail store hours, or added items to their cart versus, just bouncing off the site right away? What are you doing to turn that one-time customer into a repeat customer? Do they only need one product you sell or might they need different ones over the course of time?
In lead generation, if they don't give you all their information and request to be contacted by sales, is it valuable to have them sign up for a whitepaper, or a demo, or your newsletter? Is it better to download specification sheets, engage in calculators, or print or forward pages rather than just bouncing off the website? These are all steps that move people through their buying process.
These are just some of your macro-actions. What happens when someone comes from one of your ads and gets to a landing page? Sometimes the action is one of those listed above, but what if that page is only meant to help your visitors to choose the right product or service and they still need to actually click on the right one for them? What do you do to help them take that action and not bounce away? These are the micro-actions that need to happen from step to step in the potential customer's visit.
All of these are actions we need to optimize. You can calculate a conversion rate for each one of these macro- and micro-actions, and you should.
Step 3 – Let's understand "total number of potential people who could have taken that action"
What happened to the majority of visitors who did not convert? Why didn't they convert?
Did they land on your site incorrectly? For example, they typed in "shingles" into a search engine and they were looking for roof repair and not a skin condition. This is obviously a disqualified visitor. Did they try to purchase from your website and something went wrong? Did they have problems accessing the information? Could they not figure out how to take action on your website? Did they not trust you? Did they leave with questions that were not answered? Did you answer their questions for today, but they aren't ready to buy now? Did you not instill a sense of urgency or desire in them? Did you not make them a great offer?
You need to optimize your website experience for these potential buyers through the hierarchy of optimization.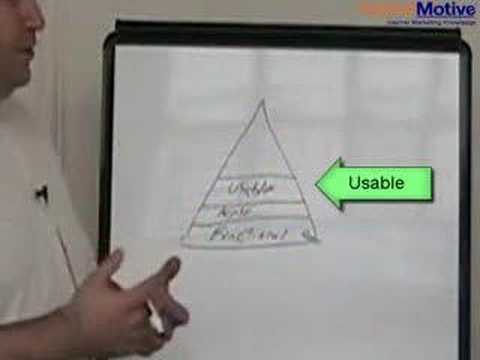 There are thousands of potential improvements to choose from. You need to prioritize these based on the level of impact that improvement can have and the resources available to execute them. If you don't have a copywriter available at the moment, you shouldn't focus on copy changes even if it would be the most impactful. That's may sound like just common sense, but it catches many companiyes like a deer in headlights.
Your average conversion rate is the aggregated conversion rate of how well your website performs for each of your customer segments, and each of your marketing efforts for each of the actions you want them to take. You optimize your conversion rate by first focusing in on the elements that impact as many of these as you can, and then you have to work on these "micro-funnels."
While you work on conversions, market conditions, competitive forces, ad copy, and even your customers' needs change. This is why you need to continuously optimize your marketing efforts. You can't afford to have a "set it and forget it" mentality to your marketing.
Those of you who have been reading our blog and books for a while might recognize these steps as the fundamental steps of Persuasion Architecture®.
1. Who do we want to take action? This is the "number of people" from step 1.
2. What action do we want them to take? This is "the action you want them to take" from step 2. Have you defined all of these clearly? Are you measuring them properly?
3. What do they need in order to take that action? This is where we analyze what content/effort went into understanding why the "total number of potential people who could have taken that action" didn't. This is where experience helps a ton.
If you only focus on improving a few landing pages here and there, testing a few variations here and there, tweaking creative here and there you will never reach your highest potential conversion rate!
Don't worry, your customers won't go unsatisfied. I guarantee that sooner or later your competitors will figure out how to satisfy your visitors needs. Hopefully that will motivate you to start getting your conversion goals on target by investing in continuous improvement.