Today's post is about a new, easy-to-use feature in Google Analytics called "Weighted Sort." If you're unfamiliar with it, watch the video, and after the break, I'll go into why and how it's useful, as well as what to do in situations where you can't use weighted sort.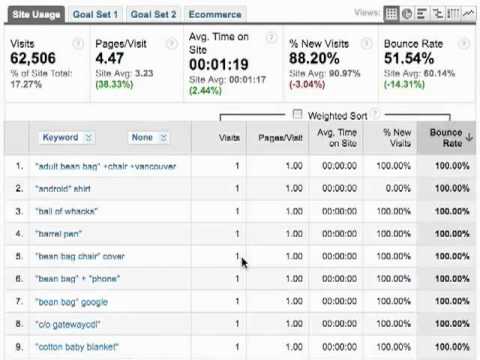 After watching that brief video, you now understand that you can sort using the usual metrics, OR you can let GA use visit or pageview metrics to "weight" the significance of the sort. The video frames the benefit of the feature in terms of improving keyword performance. That is true, and I can't blame Google for presenting it that way
However, travel with me a bit deeper and I'll show you how powerful this feature is in terms of making your analysis more efficient. It's all about spending your time looking at your most valuable data, that in turn reduces the time it takes you to find actionable insight and prioritization.
Exhibit A: Optimize for Keywords Without Getting Stuck in The Long Tail
Say you want to optimize your site for keywords. You go to your search reports, and sort by Bounce Rate, high-to-low. What do you get? A list of single-visit keywords that have 100% bounce rate… not very useful. See the "before" example [click to enlarge] where the sort shows that the keywords are often put inside quotes, and that you are looking at the very long, skinny part of the Long Tail. It's just not efficient to optimize for keywords this obscure.
Now, check the magical, mystical Weighted Sort checkbox, and what do you get? Actionable insight, plain and simple! See the "after" example where all the high bounce rate keywords have decent amounts of traffic worthy of your analysis and optimization time. These are keywords whose PPC ads or Search Engine Results Page listings, scent of information, and landing page elements warrant a closer look.
Exhibit B: Separate Signal from Noise with $index
Say you want to optimize the user experience on your site with the end goal of conversion rate improvement, but you don't know where to begin. You want to invest your energy where it will have the most impact. So, you go to your Content report and sort by $index, high-to-low, figuring that you should be focusing on pages that contribute most to your business goals. What do you get? A bunch of single-pageview pages with the exact same $index value (see "before" example). Sort of helpful, but…
Now, check the Weighted Sort box, and what do you get? You get pages that contribute to your business goals AND get a lot of traffic (see "after" example)! These are now 10 very interesting pages that your conversion rate expert should be focusing on. Are there other ways to get at the data? Sure, but that was FAST, wasn't it?
What To Do When Weighted Sort Isn't Available
If you drill too deep into your GA reports, the Weighted Sort option disappears
  Here's hoping Google engineers are working on rolling it out system wide soon. However, you can still save time in your analysis by doing some advanced filtering to take the place of weighted sorting.
Say you want to look for popular landing pages, from search, that have a high bounce rate and need to be improved. So, you select the appropriate Search segment in GA's Advanced Segments tool, go to the Top Landing Pages report, and sort by Bounce Rate, high-to-low. What do you get? A bunch of single-visit pages with 100% bounce rate. Since there is no Weighted Sort option at this level of detail, what do you do?
Click the Advanced Filter link [click to enlarge] at the bottom of the table, filter for Entrances higher than, for example, 100. Then, filter for Bounce Rate higher than 75% (make sure your value is .75 for 75%). Apply the Advanced Filter, and you now see high bounce rate pages that get decent traffic, and deserve your optimization attention. It's a bit more manual, but still handy when you're seeing a lot of "noise" and not much "signal" in the data.
Anyone found other handy uses for Weighted Sort? Please share.