Last month, Google Analytics rolled out a new toy for all of us data lovers: Multi-Channel Funnels! Now we can save gobs of time and effort trying to figure out what paths our customers use to make a purchase because GA has given us a few new tools to do it for us. Long gone are the days of crediting the most recent ad or click; we now have the power to see what campaign first brought a visitor to us, how long it took them to make their decision and every step in between. We can even see how well our various marketing efforts are working in tandem with one another to create conversions. These new tools are very powerful, and more importantly, easy to use.
Pardon the interruption: A quick technical note for those following along at your desk – before you get started using multi channel funnels, make sure you are in the "new version" interface to Google Analytics (if you're looking for the new features and not seeing them, you're probably in the "old version" interface to GA):
Look in the upper right corner of the browser, where your account name is listed, and click on the red

New Version

link.
Once you're in the correct interface, you should see a top navigation bar, and a drop down menu titled, My Conversions.
Within this drop down menu, you'll find Multi-Channel Funnels.
These will apply to all your previously setup e-commerce and goals… What?!?  You don't have goals setup?  STOP reading this post, bookmark it, and jump over to our How to Set Up Goals and Funnels series now. Or if you need broader help, you might need the Missing Google Analytics Manual too. Either way, you've got some work to do! Drop us a line if you need help.
Once you select Multi-Channel Funnels from the navigation, you'll find yourself looking at the "Multi-Channel Funnels Overview" Report.  Google defines the report this way:
The Multi-Channel Funnels report shows how your traffic sources work together to create sales and conversions. A conversion happens when a visitor completes an online purchase or another activity that you've defined as a goal (for example, downloading your information packet, signing up for a 1-week trial of your service, or completing a form asking to be contacted).
Our friends at Google Analytics regularly produce some excellent training materials, and the initial content describing the Funnels Overview report is no exception.  Be sure to checkout GA's help forum for this report & watch GA's Multi-Channel Basics video: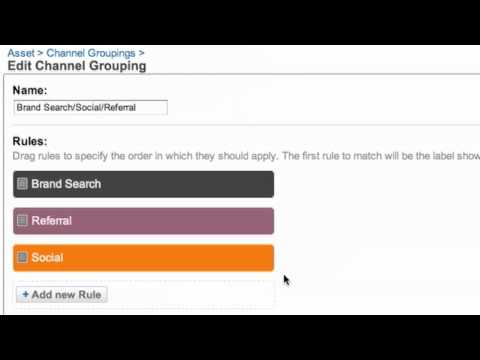 Much already has been written about the overview report, so we'd like to dive into a deeper discussion of the four follow up reports:
Assisted Conversions Report & First interaction analysis
Top Conversion Paths Report
Time Lag Report (will be discussed in Part 2 of this series)
Path Length Report (will be discussed in Part 2 of this series)

For each report, we'll cover the what (it is), where (to find it), how (it sheds light on your site and marketing efforts) and, most importantly, the why (you should give a darn)!
Assisted Conversions Report & First Interaction Analysis
What (it is):
The Assisted Conversions Report

shows how many conversions were assisted by each channel.

The First Interaction Analysis

shows how each channel performed as an initiator of conversions.

First Interaction Conversions

shows the number of conversions for which each channel was the first interaction on the conversion path.
Where (to find it):
Toggle between the Assisted Conversions Report & First Interaction Analysis under the explorer tab above the dashboard. You can view this report with different information, including Basic Channel Grouping, Traffic Sources, AdWords and Channel Groupings (as the default segment, this includes all of your basic traffic groups… Paid Advertising, organic Search, Social Networks, Email, Referral, Feed and Direct) by selecting the desired viewing option above the table. To create new groupings, select Create a Custom Channel Grouping under Channel Grouping.
You can further segment these Reports by adding a secondary dimension. My personal favorite view is Source/Medium. This allows you to see exactly how your visitors are entering the funnel and what traffic sources are acting as early and middle stage facilitators of conversion.
How (it works):
Assist Interaction Analysis:

Assisted Conversions:

This is the number of conversions that contained this source/medium combination in the last 30 days.

Last Interaction Conversions:

This is the number of conversions where this source/medium was the "last touch.

Assisted / Last Interaction Conversions Ratio:

This is the simple ration of the above two metrics. If this number is closer to zero, your source/medium is mostly scoring goals for your site. If it hovers around 1 your source/medium is both assisting and completing conversions equally.  Finally, if it is greater than 1, and significantly so, your source/medium's primary job has been to assist in conversions. 
First Interaction Analysis:
First Click Conversions:

These are the paths through which your visitors enter their buying process. This could be the only step they take toward a purchase or could be the first in a series of many.

First/Last Interaction Conversions Ratio:

This is the simple ratio of a dimensions conversion rate as a first interaction over last interaction converter. The closer this number is to 0 the more common this dimension is as a last click converted as compared to a first interaction converter.
Why (it's valuable):
If you're pretty confident not all people come to your site because of a single marketing vector and you really want to know which marketing efforts are most effective at assisting in making conversions and which draw people into your conversion funnel, this report will help you figure that out.  It also will show you which of your campaigns is working for your early or late stage buyers. Some are meant to spread awareness and promote your brand and others excel at "making the goal" or "closing the deal" At this point you can prioritize your marketing activities. Make sure your "closers" are working properly before you spend resources optimizing your assists to save you both time and money. This feature can be very helpful in identifying early, middle and late stage keywords and should be used to abet your AdWords campaigns.
Top Paths Report
What (it is):
This report shows the conversion paths (i.e. sequences of channel interactions) that led to conversions, the number of conversions from each path, and the value of those conversions.
Where (to find it):
Near the top of the report you are able to select the path length for your conversion interactions. This feature can help you to identify the route the majority of your prospects take to convert.
Another valuable feature is that you can choose other under viewing section, then choosing traffic sources—>keyword path in the  drop down menu. Seeing these keyword paths can help you visualize the thinking process of your customers.
How (it works):
This report makes aggregate paths through which your visitors follow to finally convert on your site. It tracks the activities of your customers over the last thirty days, and compiles roadmaps of how they got to the point of completing a conversion.
Why (it's valuable):
It also will help you drill into your channels and uncover details. For example, you can use the tools at the top of the report to focus in on keyword paths. Haven't you always wondered how the keywords of your visitors are changing as they get closer to a conversion? Or, if your customers who visit you on Facebook are more likely to open your e-mails? See a holistic view of your marketing efforts with this report.
Or, use this report to shed light on the different persona types that end up on your site… information that can help you to optimize your marketing efforts. If you know the route people take to end up on your actual site, you will have greater wisdom about how they will navigate when they get there.
Well, that should keep you busy for a while.  Take some time to explore these reports, and figure out what they mean to your Conversion Rate Optimization efforts.  Stay tuned for the next post, where I'll dive into the final two new reports included in GA's Multi-Channel Funnels.